CIW JavaScript Specialist Certification Exam - Quick and Complete with Updated 1D0-735 Dumps
The 1D0-735 CIW JavaScript Specialist exam is one of the popular CIW certification exams that assess your skills in JavaScript programming language. So how to prepare for your CIW 1D0-735 exam well? You can choose the most updated 1D0-735 dumps from DumpsBase to make preparation. The CIW 1D0-735 updated dumps consist of multiple-choice questions that are similar to the actual exam questions. By practicing with these up-to-date questions and answers, you will be able to familiarize yourself with the exam format and identify your areas of weakness. Today, we will discuss the benefits of updated 1D0-735 exam dumps in passing the CIW JavaScript Specialist exam, and also introduce all the CIW JavaScript Specialist 1D0-735 exam details.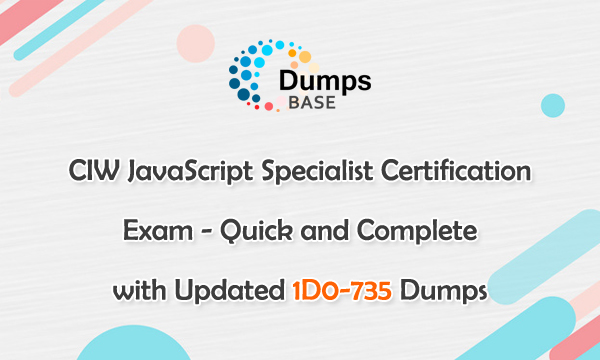 CIW Certifications: Overviews & Benefits
In today's competitive job market, it is essential to have the necessary skills and knowledge to excel in your career. One way to achieve this is by acquiring certifications that validate your expertise in a particular subject. The CIW Certification is a globally recognized certification that demonstrates your proficiency in web technologies.
CIW, which full name is Certified Internet Web Professional, is a vendor-neutral certification series for IT professionals, providing courses and high-stakes certification exams in web design, development, administration, networking, databases, and security. With over 1 million courses delivered and 210,000 certifications granted, CIW is recognized in over 90 countries as an industry-standard in IT education and certification.
CIW Certifications Contain 6 Series
1. Web Foundations Series
2. Web and Mobile Design Series
3. Web Design Series
4. Web Development Series
5. Web Security Series
6. Artificial Intelligence Series
Web Foundations Series
The CIW Web Foundations series is an excellent choice for students and professionals alike who frequently use the Internet in their work. The series comprises three comprehensive courses that cover all the foundational aspects of web development, design, and administration.
You have two options to complete the CIW Web Foundations series:
Option 1: Pass 1D0-610 CIW Web Foundations Associate
Option 2: Pass three exams, including 1D0-61A CIW Internet Business Associate; 1D0-61B Site Development Associate; 1D0-61C Network Technology Associate
Web and Mobile Design Series
This series is ideal for professionals with some Web development knowledge who work in the fields of Web site design, digital marketing, data analysis, e-commerce, and graphic design, as well as entrepreneurs who want to be able to develop and manage their businesses online. It requires professionals to prove their skills in Web design, social media strategy, multimedia, mobile applications, e-commerce, and data analysis.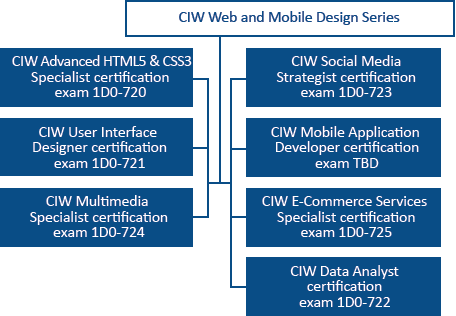 Web Design Series
This program is retired, effective December 31st, 2021. Certifications previously awarded in this program will remain valid.
Web Development Series
The CIW Web Development series offers training and certifications in JavaScript, Perl, and databases. Passing all three certification exams leads to becoming a CIW Web Development Professional, demonstrating proficiency in developing web programs and applications and working with relational databases.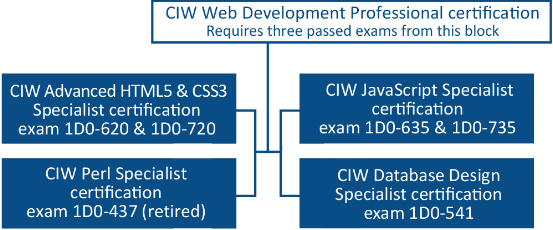 Web Security Series
The CIW Web Security series includes a course and certification exam, as well as advanced credentials from third-party providers. Earning these certifications demonstrates technical skills and knowledge in managing and protecting online data, and additional credentials can lead to more advanced certifications such as the CIW Web Security Specialist and CIW Web Security Professional.
Artificial Intelligence Series
The CIW Artificial Intelligence series has four certification programs and courses that teach the essentials of AI, including theory, methodology, algorithms, data selection and collection, system design, programming, machine learning, data modeling, and data management. Each certification also covers data privacy, ethics, and legal aspects of AI technologies.

Get Benefits from CIW Certifications
CIW stands as the world's leading vendor-neutral IT and Web technology education and certification program. Its primary focus lies in foundational standards and essential job skills that sustain the functioning of the Internet, encompassing Web design, development, security, administration, networking, and databases. More than a mere certification, CIW has emerged as the educational benchmark embraced by academic institutions, governments, and businesses across the globe for honing Web technology skills. The National Security Administration recognizes and actively seeks CIW certifications in their current job postings for available IT positions.
CIW certifications validate that individuals possess the requisite job skills to navigate a technology-driven world. In today's competitive workplace, CIW-certified professionals exhibit proven abilities that distinguish them from other Web experts. Here are some key benefits of CIW certification:
Enhanced Employability: CIW certification showcases your expertise and dedication to the field, making you an attractive candidate for employers.
Industry Recognition: CIW certifications enjoy global recognition and respect, giving you a competitive edge over non-certified professionals.
Skill Validation: CIW exams affirm your skills and knowledge in specific IT domains, providing tangible evidence of your capabilities.
Expanded Knowledge: CIW certification training equips you with up-to-date knowledge and best practices, ensuring you remain ahead in your field of expertise.
When you obtain a CIW Certification, you not only acquire the necessary skills to do what needs to be done but also earn the credibility that comes with having a globally recognized CIW Certification in your career. The CIW Certification is valued by employers worldwide and can open up new career opportunities for you. By passing the 1D0-735 exam, you will demonstrate your expertise in JavaScript programming language, which is a valuable skill in today's job market.
All You Need to Know about the 1D0-735 CIW JavaScript Specialist Exam
You can find the 1D0-735 exam details according to the information we mentioned about the CIW certifications. It is a CIW Web Development exam, which emphasizes the fundamental concepts of the JavaScript language. By completing this CIW exam, you will gain the expertise to create client-side solutions that work across different platforms, significantly enhancing the value of your website through interactivity and engaging features. Throughout the 1D0-735 CIW JavaScript Specialist exam, you will learn how to utilize JavaScript to interact with users, manipulate the Document Object Model (DOM), manage program flow, validate forms, create image animations, implement cookies, dynamically modify HTML content, and establish communication with databases.
The actual CIW 1D0-735 exam contains 55 questions, which are required to answer in 90 minutes. All these questions are relevant to the domains as shown:
Domain 1: Essential JavaScript Principles and Practices
Domain 2: Intermediate JavaScript Programming Techniques
Domain 3: Applied JavaScript
Domain 4: JavaScript Technology Extensions
Comprehensive Set of CIW 1D0-735 Exam Dumps Questions
DumpsBase provides a comprehensive set of updated 1D0-735 exam dumps that cover all the topics tested in the CIW JavaScript Specialist exam. The exam dumps are designed by experts in the field and are regularly updated to reflect the latest exam pattern and syllabus. With the updated 1D0-735 exam dumps, we ensure that you can pass the CIW JavaScript Specialist exam successfully.
CIW 1D0-735 exam dumps of DumpsBase have a high success rate, and many candidates have used them to pass their certification exams on the first attempt. Our dumps are designed to give you a competitive edge and increase your chances of passing the exam. We also offer a money-back guarantee if you fail to pass the exam despite using DumpsBase's 1D0-735 exam dumps.